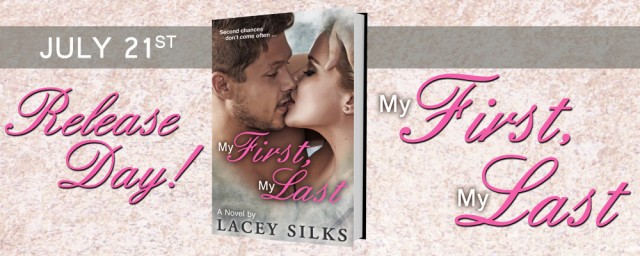 Fate has kept them apart for twenty years.
Their roads hadn't crossed and the stars didn't align until now...
Matured, more experienced, pierced, tattooed and hot as hell, Adrian steps back into Mia's life to reclaim his first love.
And the moment she sees him she can't even remember her own name.
Adrian Reed had always remained in Mia's heart. After all, he was her first boyfriend and the man she'd lost her virginity to, but that was twenty years ago. His sudden appearance at a bar, on a girls night out, has Mia acting like the fifteen year old girl she was when they parted.
But life now is not as simple as it was twenty years ago. With two kids, a hopeful ex-husband and new insecurities, Mia finds opening up to a new relationship more challenging.
Will she give her first love another chance, or will she push him away, this time for good?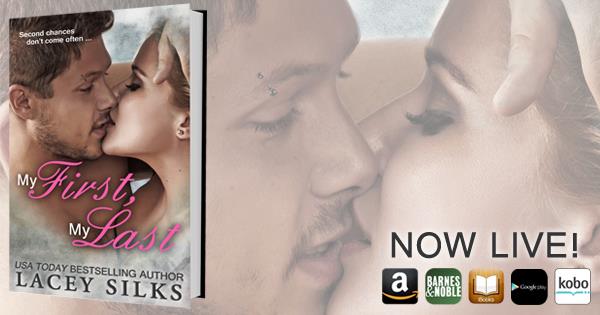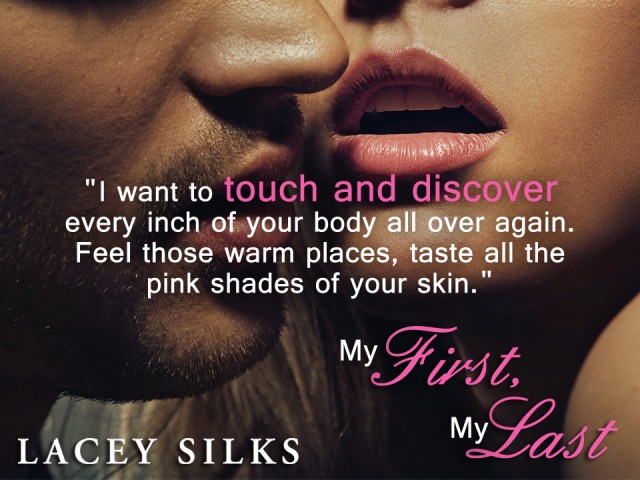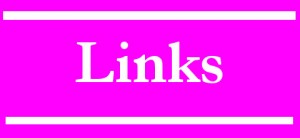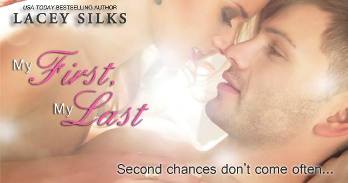 .
To celebrate the release of My First, My Last, join me at the
Facebook party
on July 21st from 6:00 pm to 10:00 pm (EST). We'll have games, trivia and loads of fun – with of course awesome prizes by NYT and USA Today Bestselling Authors!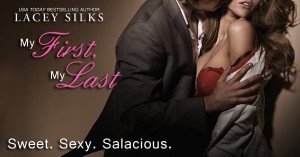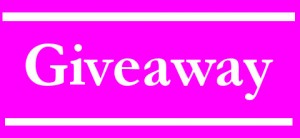 a Rafflecopter giveaway
Excerpt 1:
Stepping over the threshold, within inches of his reach, I removed my shoes and waited. He simply pulled me inside, shutting the door, and set the wine bottle and my purse aside on the hall table.
His silence buzzed through me with pleasurable tingles.
He cupped my face, tilting my head to the side. I closed my eyes, breathing in his scent. Adrian's mouth brushed mine and my hands fell to my sides. His lips traced along the bow of my upper lip before his tongue dipped inside. I opened wider. He slowly walked backward. My foot brushed against his every few steps. Keeping my eyes closed, I followed wherever he led me until a hard surface touched my back. By this point there was nothing innocent about the way his mouth was dominating me. I heard myself moan and whimper pure lust with each breath. My hand lowered to his jeans and curved around his arousal, stroking the hard length underneath. I wasn't sure what came over me, but I was so desperate for him, for us, I could no longer control my body. His hips pressed in as he groaned inside my mouth.
When he pulled away, his gaze bored through me with penetrating heat. If he had wanted to, he could have melted those buttons right off my dress. Adrian took me by my waist and lifted me up to the kitchen counter. His fingers slowly trailed down my nose, over my lips and chin, and then along the middle of my neck and upper swell of my breasts until he reached the buttons on my dress. My chest swelled, and all I could think about was how fast he could get this dress off me. With each passing second I found it more difficult to breathe. The fabric was restraining me as if I were locked away in a coffin.
Unfasten these damned buttons! my mind screamed, but my mouth couldn't form a coherent sentence.
But the eager fingers from our teens now had unbelievably arousing patience and experience. Adrian undid the top button open and I looked down, following the movement of his hands.
He stole a lingering kiss again, and then flicked open one button after another, trailing a downward path until he reached the hem. Parting the fabric to the sides, he took me in, slowly scanning my body.
"You wore white the first time we made love."
"I know."
Everything inside me turned and twisted into knots of nerves. As he watched me, my chest tightened inside yet swelled on the outside. The heat coming off his breath and skin was too much and not enough at the same time. My cleavage and stomach were partly exposed for him, and I couldn't help but hold my breath.
The skim of his fingers down my arms as he admired every inch of my skin sent beautiful tingles through my body. Adrian seemed in no hurry. I grasped the hem of his shirt, lifted it up and off his torso, and then pushed my dress from underneath me and moved it to the side. It fluttered to the ground, freeing my hips and legs.
And as we stared at each other, I knew that there was no one else I had ever wanted more than him. He was the soulmate I'd once lost and been lucky enough to find again. That little piece of my heart I'd locked him away in had begun expanding the moment he reappeared in my life.
Looking at him now, I couldn't believe how much his body had changed over the past twenty years. I held my breath, admiring the marvel of a man he'd become. His naturally toned torso and sun-kissed skin mesmerized me. The tattoo weaving up his upper arm hid beyond his shoulder and all I could think about was the need for my tongue to trace those dark lines and for my lips to kiss the new patterns inked over his skin. I wanted to throw myself at his hips, wrap my legs around him, and feel him dive into me. How in the world did he have so much control? Or did he do this on purpose? It was as if he compelled me to inspect his pecs and abs and that beautiful path, sprinkled with a shadow of hair, that led beyond the buckle of his pants, just to excite me. I devoured his taut body as he leaned forward, splaying his hands against the counter at the side of my thighs. His thumbs gently brushed against my hips. The flex of his arms and that sexy way he had of focusing just on me—really, really looking at me—made me hungry for more than just baked apples.
"There, that's much better." He leaned in and kissed me. "Hi, Thumbelina."
"Hello."
Excerpt 2:
I ignored Adrian's chummy sense of humor and swam toward the waterfall. There, the shallower bottom allowed me to stand, and I adjusted my nearly nonexistent attire. Within seconds Adrian's arms were around me, reaching down from behind for my hands. Our fingers interlaced and I lifted my head up and tilted it back, meeting his larger lips. His mouth covered mine. The dominance of his strength transferred through the kiss. I twisted in his arms, turning to face him, and felt myself being lifted out of the water. I held onto his neck, wrapping my legs around his waist, pressing myself to him like a savage, but I just couldn't get enough of his divine lips. He stepped to the right and my back touched the cold rock surface. My lower lip found itself in his mouth as he bit it tenderly, and then his tongue dipped back inside me, grazing against mine, curving gently between my tender gums.
My hands played with his wet hair as his fingers dug into my ass, molding my behind as he held me. Underneath my ass, his arousal was hard and I fought the urge to jump off him and feel his length grow in my hands. God, how I wanted him! I wasn't sure how long we remained like this—like two reckless teenagers without a care in the world, savoring each second of our deep kiss, twining our limbs, completely enveloped in each other. There was something so enticing about kissing the first man who'd stolen my heart. The first one who had kissed me, touched me, and made love to me: the one whom I'd bared my body to for the first time. The man who'd first seen me naked and christened my skin with his hands and lips like it was created only for him.
My sex dripped with desire for him. When my feet finally touched the ground, his free hand slid up my hip and ribcage, grasping my breast. I sucked in his breath, needing him to rip that bathing suit off me. A deep yearning surged through my veins. Adrian's hard cock poked through his shorts into my belly. I stepped up on my toes, careful not to slip so that I could grind myself against him. Frenzy built inside me with each twist of my hips. I was no longer a responsible mother, but a woman whose needs had been denied for far too long. I wanted to feel all the exquisite things he could do with my body as a man.
"Let's get more comfortable, T." He pulled away, his suggestion thick with lust.
Excerpt 3:
I woke up just as the sun began to rise. It was six in the morning, and my bladder was urging me to get up.
With the sheets barely covering his hips, Adrian was sleeping on his back. Feeling the need to touch him, I sat up, admiring the body that had rocked mine three or four times the night before. I'd sort of lost count. Between naps and grunts through the night, I'd savored every moment he wanted me, giving myself to our needs.
The increasing pressure on my bladder forced me to slip out from underneath the sheets. I tiptoed to the bathroom and then back without waking Adrian.
Returning to the crumpled sheets, I sat at his side, watching him. Adrian hadn't stirred, and I wished I could wake up like this every morning. My gaze ventured lower. The lure of his morning bulge under the sheets excited me. The impulse to touch him made my fingers twitch. Sitting at his side, I lowered my hand to his thigh and then slowly to his erection. A gentle flex in my palm stiffened him even more. With the exception of his eyes, he didn't move, and my need to please him even through a dream grew. More so, I wanted to feel his width that had filled me last night, and so I lowered my hand to his groin and stroked him, once, then again, stimulating a flex through his dream. At least I assumed he was dreaming, the way his eyes moved under his lids and his mouth opened by a fraction.
There was something dirty about the act that hardened my nipples and slicked my thighs. Perhaps I should wake him? But my hand kept pulling the soft skin of his cock along the muscle, up and then down, as I watched him grow in my palm. The thicker and harder he became, the more the rough texture of his veins under my fingers smoothed. I'd held him in my hand before, but now, as a man, he seemed bigger and more appetizing. A drop glistened on his crown. I licked my lips and lowered my mouth to his cap. His hips twitched higher as I locked my lips below the crown, stroking him slowly. I rolled my tongue under the rim, feeling his round edge under my lips, and then licked his full length from the root to the tip before taking him in my mouth again, slowly pumping him from the base up. My dampness increased at the taste of him.
Adrian moaned, his brows narrowing in confusion, but still slept. I squeezed tighter around him, letting my mouth work his shaft deeper and deeper each time. He grew between my lips to his thick, delicious size. My bottom lip felt the swell of his vein pulsing underneath it. I cupped his balls, feeling their warm, soft weight.
And he stilled.
I looked up, batting my lashes. He slid out of my mouth with a pop.
"What are you doing?" he whispered.
"Making another first?" I winked.
"You're wilder than I remember." He grinned.
Best wishes,
~Author Jennifer Labelle~