Warm up your winter with a getaway to Pleasure Island!
Chelsea Hunter didn't come to the resort looking for sex. Jake Davis intends to change her mind. Will they be able to turn up the heat, or will their visit to Pleasure Island leave them cold?
After finalizing her divorce, Chelsea Hunter came to the resort island of Paradise for some peace and quiet so she could figure out what her next step would be. She hadn't expected to find herself at an exotic hotel dedicated to pleasures of the flesh. Too bad she doesn't want sex.
Jake Davis is back in Paradise after visiting a year ago when his own marriage fell apart. This time his fantasy is to guide a woman through her sexual journey. He hadn't counted on being paired with the only woman in Paradise who prefers privacy over pleasure! Will Jake be able to discover what Chelsea truly needs, or will their journey to Paradise remain unfulfilled?
Excerpt:
She didn't know what to say. The man standing before her had just announced his fantasy of seeing to her every sexual need. A dream come true or a nightmare? She hadn't been with anyone in over a year. Panic set in. Fantasizing was one thing, but the thought of actually being naked with someone—terrifying. She liked her body, but it was far from perfect.
When she didn't respond, he strode to the dresser. Chelsea followed and peeked inside when he opened the top drawer. Her cheeks burned with heat, but her pussy reacted with a fierce throbbing. Inside were various personal pleasure devices of all shapes and sizes. She closed the drawer with a snap, nearly catching his fingers.
He raised an eyebrow at her, and opened it again. "For when you don't need me."
Reacting like a cornered animal, she snapped at him again. "Well, I don't need you, and I don't think I'll need those either."
"Chelsea…" He took hold of her shoulders and pressed his hard body into her backside, nestling his erection between her ass cheeks. Her heart rate and breathing quickened, and she gasped. Holy fuck. Her knees buckled, but he held her up. And what a nice body to be held up against. Maybe this wouldn't be so bad…
His deep voice rumbled in her ear as his hands slid down her arms, his fingertips brushing against the back of her hands. "There's nothing wrong with exploring your sexuality."
"I didn't say there was." A shiver ran through her, and her voice came out a breathy rasp. "But I didn't come here for sex."
"It's yours for the taking." His lips brushed the side of her neck, and she melted into him as he palmed her belly. God, it felt good to have a man's hands on her even if there was a layer of fabric between them. Hot, insistent hands that knew what they were doing. The only thing she focused on was the sensation of his palms sliding up her belly to cup her breasts. She whimpered. It had been too long without a man's touch, and she was a touchy-feely person.
"This doesn't feel so bad, does it?"
"No, it doesn't." Her whispered words could barely be heard.
"If you want me to stop—all you have to say is no. My job isn't to force you into anything. Only to give you pleasure." His fingertips glided down her abdomen again, and made their way down to the top of her thighs, gathering up her skirt.
"B-but you don't work here."
He smiled against her neck. "Use your imagination, honey. I'm here to give you what you need. No strings. No commitment. Only as much satisfaction as you can handle. Why not go for it?"
One finger toyed with her clit through her underwear. Her eyes rolled back in her head, and he nipped her earlobe. "Tell me to stop now. Because I can feel your heat and I want to experience it."
She meant to stop him, gather her wits to think clearly, but when he rubbed the heel of his hand into her mound, she groaned, wriggling back into his erection. "Don't stop."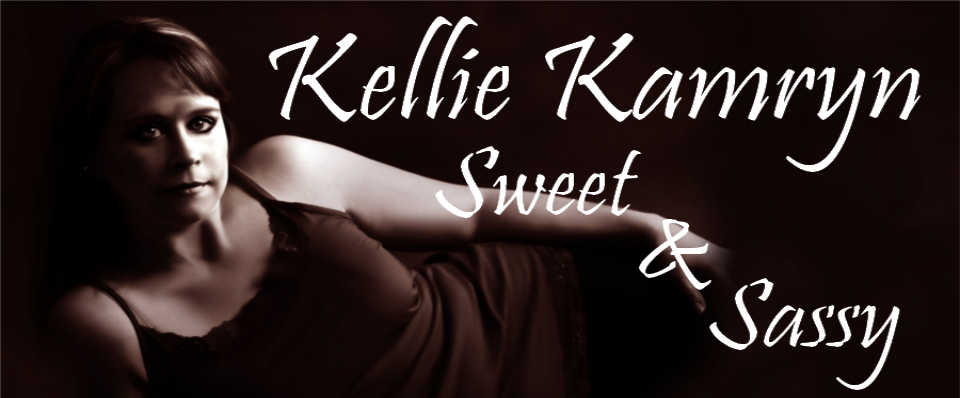 "...and though she be but little, she is fierce." ~William Shakespeare
Award-winning Author of Erotic Romance & Audio Book Narrator:
~~~~~~~~~~~~~~~~~~~~~~~
GIVEAWAY TIME!!!!
Kellie has offered up an e-copy of Pleasure Island to one lucky commenter. Please let her know what your favorite getaway is in the comments section with your email address' and follow this blog for your chance to win it.
Kellie will announce her winner on Friday March 7th.
Best wishes,
~Author JenniferLabelle~
http://www.jenniferlabelle.com