Come join our Merry Menage Giveaway Hop hosted by Day Dreaming, My Secret Romance and The Book Tart!
Need a new bedtime story to light your fire?

Looking for something with a little heat to warm you during the cold holiday season? Feel like decking the halls naughty style? Well then, come join us as we stand under the mistletoe for this wickedly sexy giveaway hop! The more the merrier! Have no worries, we'll help you trim your trees, deck yours halls, and spark that fire!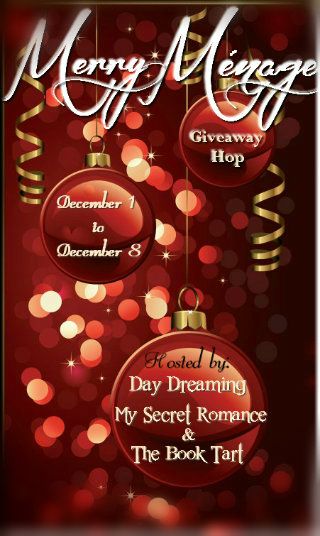 I was instantly drawn to this hop by it's title alone *grins* and I couldn't help but add Labelle Books to it's list of participants. I love a good steamy romance, and well, since I've written a few good Menage books myself, I thought what a good way to give you all a chance to read some of them. The Merry Menage Blog Hop runs from Dec. 1 to Dec. 8th and I'll be announcing my winner on the morning of Dec. 9th.
** Please note: This contest is open internationally (INT) **
Up for grabs is your choice of Jennifer Labelle Menage *winks* (E-Book). Here is a list and in the comments section I'd like you all to tell me which one you'd like to win. Don't forget to leave your email address' with it, and if you're so inclined, I'd love for you to follow this blog. It's a chance to keep in contact with yours truly, meet a ton of fantastic authors, and we have giveaways on a weekly basis.
Here you go:
SPICE IT UP - (MMF Menage)
Heidi Taylor has fallen in love with a man who's off limits. He's her best friend and she's afraid to tell him how she really feels, that is until Nathan suggests she needs a little spice in her love life, and designates himself as her something spicy.
FINDING HIS SOMETHING SPICY (Sp
i
ce It Up 2)- (MMF MFMF Menage)
Rafe Zakas had no intention of settling down until he fell hard for his two closest friends, Nathan and Heidi. Their perfect trio falls apart when Nathan gets a job offer, relocating them, and Rafe realizes he needs his own something spicy to love.
BUY LINK:
LYRICS AND LUST (Spice It Up 3) - (MF Romance w/ MFMF Menage)
Meagan Morales hits a rough patch in life and in love, until she meets successful rocker, Lyric Cooper. Just when she opens up to the idea of a new love, danger lurks in the shadows and she may need to risk her heart again to survive it.
BUY LINK:
LEATHER AND PLEASURE - (MMF Menage)
Rowan Avery Walker is planning to surprise her husband after ten years of marriage. On their anniversary she decides to enact one of his most desired fantasies, and there's no traditional night out on the town for this couple. She's no stranger to role play, and when it comes to bedroom pleasures she likes to walk on the wild side.
BUY LINK:
SINFULLY SEXY (Leather and Pleasure 3) - (FFM Menage)
Two women, one man, a fetish club, and one sinfully sexy night together...
Sable Dixon and Lila Davis have been lovers since they started working at the ever popular fetish club Leather and Pleasure, but Lila has curiosities and would like to know how Sable feels about having a third join them sometime. Sable is all for it and quickly invites Parker into the mix. He's good looking, respectful, sexy as hell and there's no one else she'd rather share Lila with. One invitation turns into so much more where fantasies live, and one sinfully sexy night just may need a repeat.
BUY LINK:
NAUGHTY NOEL (Leather and Pleasure 4) - (FMMM Menage - Christmas theme)
Noel Lewis has had a lot of firsts in her life, but this holiday season she's making memorable. She's the star of her first holiday performance at the fetish club she works at, Leather and Pleasure, and finds herself leading her first ménage a quatre for hundreds to see, unleashing her naughty side. Nervous at first, she soon realizes that she's a natural on stage and aims to please.
BUY LINK:
*Note* Leather and Pleasure 2 & 5 are not listed as they are not menage.
Don't for get to follow on to the next blog for a chance to win more by clicking on the picture above, or by following these links below:
Best wishes,
~Author Jennifer Labelle~
http://www.jenniferlabelle.com